Rehearsals are held every Monday from late-August through mid-April at St. John's Episcopal Church in the Alfriend Hall from 7:30pm to 9:30pm.
The Church is located at 211 N. Monroe Street (on the north side of Call Street between North Monroe and Calhoun Streets). Please enter and exit using the Calhoun Street entrance.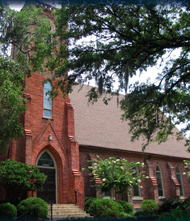 PARKING
St. John's Church owns the parking lot that is located behind the bookstore on the corner of Call and Calhoun Streets. You may park there to attend Chorus rehearsals at any time. St. John's also has an agreement with Capital City Bank to use their parking lots after 5pm on weekdays. When parking in the bank lot, NEVER park in nor obstruct the night depository lane. Selecting that parking area will result in having your vehicle towed!