Educational Outreach
Youth Meet The Masters
The Youth Meet The Masters outreach program provides complimentary concert tickets to middle and high school students in Leon County.  Additionally, tickets are made available to local and area private music teachers to reward outstanding students.  Over the past few years, Youth Meet the Masters has provided the following to local educational institutions:
a pre-concert lecture and complimentary tickets for the Juvenile Assessment Center and Florida's Sheriff's Boys and Girls Ranches through Leon County Sheriff's Resource Officers.
membership opportunities to local and area high school students whose school choral programs have been eliminated or limited.
Support Youth Meet The Masters with your donation to The Tallahassee Community Chorus.  Thank You!


Tallahassee SINGS! (Poster Contest)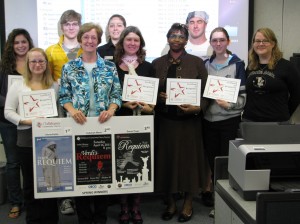 Spring 2011 Poster Contest Winners
In partnership with Tallahassee Community College, the Chorus sponsored a poster contest in which all graphic design students of the College were invited to participate. The contest provided a learning opportunity and real-world design experience for the students; it also promoted the educational outreach goals of the Community Chorus. The winning poster for each concert was printed by the Chorus and distributed throughout the community to promote each of the respective performances.